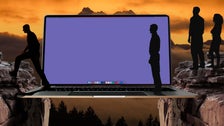 Last year, I was invited to speak on a Métis panel at COP15 in Montreal about my community's historical and persisting connection to the land. Throughout the conference, the voices that carried the most power were all Indigenous, which makes sense considering how much of the world's biodiversity in forests, grasslands, deserts and marine environments is protected by Indigenous people — even though we make up less than 5% of the world population.
I am a writer by craft, but my identity as an advocate for the health of the land runs strong in my blood. The connection between Indigenous peoples and the land we come from can never be severed because we believe that when the land is healthy, we are healthy. In many of my conversations with Indigenous land activists at the conference, we spoke of the difficulties that emerge when the descendants of white settler colonialists engage with our Indigenous-informed work. Even when we're working toward similar goals, the perspectives we approach them from are worlds apart.
At this event, I met Danielle Rey Frank, a member of the Hoopa Tribe and president of the Hoopa Valley High School Water Protectors Club. "One of the biggest challenges I face when working with primarily white conservation groups is having to be so informative about absolutely everything I do," she told me. While communication and education were necessary, she described having to expend a lot of emotional labor teaching these groups about her Indigenous-based science practices and sacred bonds with the land.
This resonated with me. As the only Indigenous person to ever participate in my graduate program's creative nonfiction program, I was expected to provide extensive cultural context and explicit details of sacred ceremonies to my white counterparts. And while I want non-Indigenous people to gain knowledge and understanding and to ultimately become advocates, this took a mental toll on me. I wanted to be as accurate as possible while leaving room for the nuance of our tribal identities.
Alleviating that emotional burden feels like an important step while collaborating to attain our collective 2030 climate change goals. And it'll require a solid partnership between Indigenous land stewards and non-Native conservation groups, especially amidst the challenges.
One blueprint for that partnership is currently coming to fruition. Jennifer Whitener Ulrich is a descendant of the Squaxin Island Tribe and COO of The Whitener Group, a consulting group dedicated to the advancement and sustainability of tribes. Along with Brie Fraley, an enrolled citizen of the Tolowa Dee-ni' Nation and The Nature Conservancy's director of North America Indigenous Landscapes and Communities, she helped produce Indian Country 101, a training program that provides cultural context and guidance for non-Indigenous conservationists.
Fraley toes the line between two worlds as a member of both of her Indigenous tribe protecting the land and the corporate, white-led conservation group. "There's a call for action in Land Back, and I like to tell my colleagues that this is something Indian Country has given us to respond to," said Fraley, who began using the term "Land Forward."
"Moving forward, how can we be in right relations with our Indigenous partners? How can we listen to their voices?" she asked. "How can we support their self-determination goals in their ancestral territories? The enabling conditions to make that happen is to build a competency capacity and that's what Indian Country 101 does."
Indian Country 101 is narrated through an Indigenous perspective. While tribes have provided training to conservation groups before, this is the first training tool of its kind in terms of depth and accessibility, with the onus not placed on individual tribal members. The interactive, video and cue card modules are narrated by Ulrich with compassion, humor and just a touch of snark. For Indigenous communities, humor has always been a mode of healing and protection.
Her style of communication is key. Ulrich has been working with various tribes, tribal-owned businesses and tribal nonprofits for years and has witnessed the complications when there's a lack of understanding by white-led conservationists about the history of Indigenous peoples and how tribal governments operate. In its most transparent sentiment, the training program's stated objective is to "help you offend Native people 50% less and engage with Tribes 25% more effectively."
Tribal members who were not involved in creating the training recognize it as a positive thing overall, but it's also important to note that nations are not homogenous. Frank, amidst her enthusiasm, noted there are a million ways things could go wrong. "Tribal Nations are not a monolith; we are unique individual nations with different traditions and values," she said.
"I think in order for anything of this nature to be effective, tribal governments and tribal people have to be leading it," Frank added.
The Whitener Group shared Frank's perspective; it's important to its leaders that the curriculum came solely from Indigenous perspectives and voices, which is why it dismissed research The Nature Conservancy did for the curriculum prior to the collaboration.
While Indian Country 101 focuses on tribes specific to the Washington region, Fraley is already working to create specific training for Oregon tribes and she hopes to expand across the nation. These resources, which could take on many forms with the right support, could lessen so much of the emotional burden for all tribal nations. Outside of combatting cultural erasure, an educational touchstone could protect nations and people from having to rehash each belief, protocol and procedure of tribal governance that have protected these lands for time immemorial. And that protection might begin to address the trauma that's come with America's long history of theft.