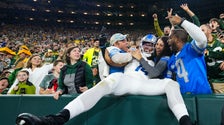 A Green Bay Packers fan on Thursday poured beer on the Detroit Lions' Amon-Ra St. Brown after the receiver jumped into the stands to celebrate with Lions supporters at Lambeau Field. (Watch the video below.)
The "Thursday Night Football" broadcast picked up the disturbing moment. It's unclear if the spectator faces consequences.
St. Brown had just hauled in a touchdown pass from quarterback Jared Goff to give the visiting team a lead it would not relinquish in a 34-20 victory.
Then St. Brown went for a celebratory "Lambeau leap" into the crowd.
It's usually done by Packers players, but what the heck. That's when the fan, perhaps moved by the teams' division rivalry, committed another example of why alcohol and sports sometimes don't mix.
In a just world, this would be the last beer for this fan at Lambeau.