Gujarat Titans all-rounder Vijay Shankar has opened up on the challenges of being an impact player for the franchise in the ongoing Indian Premier League season (IPL 2023). The Tamil Nadu cricketer stated that one must be switched on at all times as an impact player, given the lack of clarity regarding the role.
Shankar replaced Josh Little during the Titans' second innings against the Delhi Capitals on Tuesday, April 4, at the Arun Jaitley Stadium. He scored 29 crucial runs and shared a 53-run partnership with B Sai Sudharsan to take the defending champions closer to the 163-run target after they were reduced to 54/3.
After the match, which ended in a six-wicket win for the Titans, the two Tamil Nadu cricketers were involved in a casual chat. When asked about how he approached being an impact player, Vijay Shankar said it took plenty of adjusting, but felt it paid off well eventually, given their partnership.
"It was actually not that easy because if you're playing and know your role, what exactly you're going to do, it's totally different. But being an impact player, you need to be switched on right from the time the team walks out to bat, especially when you are batting second and depending on the role we get, we need to be open.
"Last game you did it, replacing Kane [Williamson]. And this game, me coming in and having a partnership was a good one."
Speaking about his bond with Shankar, Sudharsan said he shares a special camaraderie with the all-rounder, having played under him for Tamil Nadu.
"I think I've mentioned this in a couple of interviews as well because Vijay Anna is always special for me. Even at the start in the TNPL (Tamil Nadu Premier League), I played my first game against him and under him for Tamil Nadu. So, I think it is very special for me, a special bond."
Sudharsan earned the Player of the Match award for his unbeaten 62 off 48 deliveries. He stayed till the end and shared a 56-run partnership with David Miller to see his side home.
Skipper Hardik Pandya earmarked the youngster to do special things for India in the next few years.
---
"I think the way we ran was fantastic" – Vijay Shankar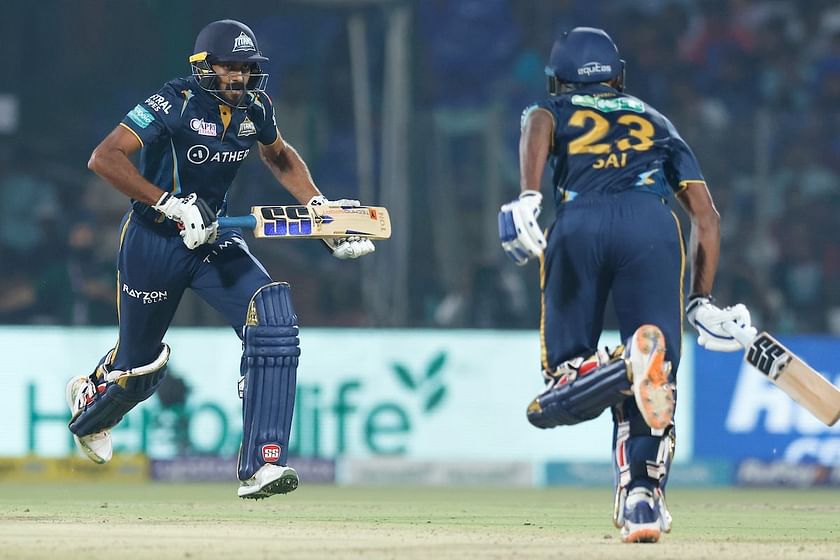 Vijay Shankar further opined that running between the wickets was one of the hallmarks of his 53-run partnership with B Sai Sudharsan. He added that they have endless conversations about the game off the field and said:
"I think the way we ran was fantastic. I think we really enjoyed running together. We always enjoy running together and it was special winning the match for the Gujarat Titans.
"We had some amazing time off the field as well. Good banter. Be it where I know in the team room playing peers, beating you every time. The best part is when we come on to the field, we have a lot of conversation about cricket. We discuss a lot about batting and everything."
The Gujarat Titans, who have started IPL 2023 with two wins in as many matches, will next face the Kolkata Knight Riders on Sunday, April 9, in Ahmedabad.