Kourtney Kardashian is making it clear that she's unfazed by the internet trolls and their negative comments about her pregnancy at 44.
"Those comments don't affect me. To those who do them I just say: How dare you question God's plan?" she told Vanity Fair Italia in a story that was published over the weekend.
"Because that's how I see this pregnancy, which in fact arrived when both Travis [Barker] and I no longer even thought about it and a year after we stopped trying with assisted fertilization," she added.
The reality star, who tied the knot with the Blink-182 drummer last year, famously got candid about her fertility journey on Hulu's "The Kardashians" after undergoing the in vitro fertilization (IVF) process.
"We are officially done with IVF," Kardashian shared in a confessional during the show's Season 3 premiere. "We would love a baby more than anything, but I just really believe in what God has in store for us. If that's a baby, then I believe that it will happen."
She also shared with the outlet that she never felt like IVF was the "right" route for her.
"The decision to try assisted fertilization was almost a non-choice, in the sense that I was pushed towards it as if it were the only option," she explained. "The truth is, I felt like I was doing something that wasn't right for me. My intuition was telling me that she wasn't right for me."
The Poosh founder went on to address the medical emergency she suffered last month, which required her to undergo fetal surgery, but admitted she's not ready to discuss the "really scary" experience yet.
"It was terrifying," she said of the health scare. "And I feel that sooner or later I will go into details because I hope that you can help others, but today I don't feel ready yet because it was really scary."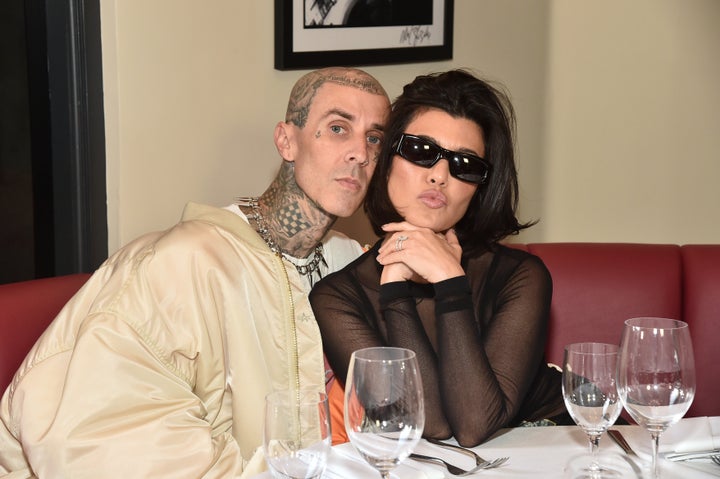 Kardashian's pregnancy with Barker marks her fourth. She shares three children with ex Scott Disick: Mason, 13; Penelope, 11; and Reign, 8.
She is also stepmom to Barker's daughter, Alabama Luella, 17; his son, Landon, 19; and his stepdaughter, Atiana De La Hoya, 24; whom he shares with his ex-wife Shanna Moakler.
But the eldest of the Kardashian-Jenner clan says this time around, her pregnancy is going way smoother.
"I like being pregnant. I'm obsessed with the idea of being pregnant! But this time, unlike the other three, I was followed by a different group of doctors who, in the first months, gave me many restrictions," she said.
She noted that with her past pregnancies she "never had to be careful."
"No workouts, no Pilates, no caffeine, no plane trips. Even no sex," she said of her current pregnancy.
Kardashian admitted all of the guardrails did make her feel a little nervous at first.
"Well, I think all this caution made me a little afraid because in the past I never had to be careful," she said.
She added, however, that she's gotten to the point where she has "stopped worrying" and is feeling "more thankful."
"Now I talk to the child every day, have a positive mindset, keep my head straight and say a lot of prayers," Kardashian shared.