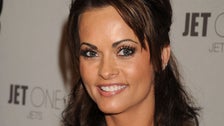 The other woman who allegedly received hush money payments from Donald Trump's campaign in 2016 is speaking out after the former president's indictment.
Well, actually, Karen McDougal is just slyly shading Trump on social media.
"I've been out and about enjoying Gods country … I hope I didn't miss anything," she posted.
Although Trump has denied having a sexual relationship with her, she was paid $150,000 by American Media Inc (AMI), corporate parent of the National Enquirer, for the rights to her story in order to prevent her from going public with it ahead of the 2016 presidential election.
Prosecutors said Tuesday that Trump didn't want McDougal's story becoming public "because he was concerned about the effect it could have on his candidacy."
So Trump, his then-lawyer Michael Cohen and his longtime friend, AMI former chief executive David Pecker, agreed that Trump would reimburse AMI for the payment.
Pecker later decided not to seek repayment after talking with a company lawyer, but the U.S. Federal Election Commission ruled in 2021 that the payment to McDougal amounted to an illegal campaign contribution and fined its successor company $187,500, according to Reuters.