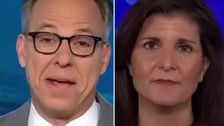 CNN's Jake Tapper wasn't having it.
"Well, I'll tell you what's right is under the Biden administration, we've seen chaos within…" Haley, the former U.S. ambassador to the United Nations, told Tapper on Sunday's broadcast of "State of the Union."
Tapper interrupted and while chuckling said: "You can't blame that on Biden. You can't blame this on Biden."
"Well, you have to let me finish," Haley responded.
She claimed, "You can't fix Democrat chaos with Republican chaos" and said that Republicans "need to get it together."
"They need to get in a room and figure out who this is going to be and come out unified. That's what Republicans need to do. This is not a good look," she added. "This is not good for our country. We saw what happened to Israel when they were distracted."
Donald Trump-backed Rep. Jim Jordan (R-Ohio) won an internal Republican vote on Friday to become the GOP's nominee for the job. He may not have the backing of the full House floor, however.