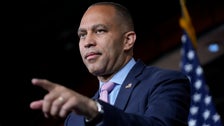 House Minority Leader Hakeem Jeffies (D-N.Y.) on Sunday said his party is having "informal discussions" with House Republicans as the speakership stalemate continues in Washington.
The GOP has nominated Rep. Jim Jordan (R-Ohio) for the speaker position, but it's unlikely he can get the 217 votes required on the House floor. The vote could reportedly take place as early as Tuesday.
As Democrats have remained united in their opposition to the candidates the GOP has put forward, Jeffries said it's time to formalize discussions about potentially forming a bipartisan governing coalition.
"It's time to end the Republican civil war so we can get back to doing the business of the American people," Jeffries told NBC's "Meet the Press." "And we as House Democrats are committed to finding that bipartisan path forward in a meaningful way."
Since the ouster of former House Speaker Kevin McCarthy (R-Calif.), Republicans have been unable to rally around a candidate to replace him. Rep. Steve Scalise (R-La.) was nominated by his colleagues last week, but dropped out of the race after he failed to secure enough votes to win the speaker's gavel.
Now Jordan, an ally of former President Donald Trump, is facing similar challenges, with more than 50 members of his caucus opposing him in the secret ballot.
Supporters of Jordan over the weekend reportedly pressured their fellow Republicans to get behind him, warning that they would face the wrath of the Trump wing of the party if they voted against him, according to Punchbowl.
Meanwhile, GOP House members who strongly oppose Jordan's candidacy told Politico the Ohio congressman will face a challenger, though they did not specify who it might be.
Asked what it would take for Democrats to work with Republicans, Jeffries said a priority for his members would be a rule change to allow bills with bipartisan support to get on the House floor "so that the extremists aren't able to dictate the agenda."
"The current rules of the House have facilitated a handful of Republicans being able to determine what gets voted on in the House of Representatives, and that undermines the interests of the American people," Jeffries said.